i always don't know what title to put each time i blog.. haha.. i dunno why.. no idea maybe..
its now the time for me to update some post bout mayhua's birthday..
i know its quite long already, but just got those picts today..
well.. december 16th, we went pizza hut for dinner..
it was quite an early dinner.. 5pm.. haha..
so i just craved for the salad.. and not the pizza.. im being unusual.. i know. XD


mayhua came out with her own idea to put the candles on the pizza.. since cake is so bored and old school.. haha (great idea.. i'll try next time..)
mayhua and her birthday ice cream pizza.. its free.. for birthday peeps.. =)
this pict without tingting..
all of us together.. hehe
me and ching ching... both in black... (also wanna wish her a happy birthday-21dec08)


she looks cute with that smile la.. haha.. and me.. mouth full of salad!! lol..

i love this.. haha... chingching: i wanna sleep..im so sleepy debbie: i have not slept for 3 days, who's worst? haha.. lol.. lame lame lame!!!


everyone looks preety in here.. look who's the camera girl la.. ish ish...


me.. SS betul


well.. we should come out and gather like this more often.. i really enjoyed the lame jokes.. girls are girls.. we're always loud and crazy when we meet.. HAHA...
there's 2 jokes that made me laughed that day..
1st one.. we're talkin bout dental stuff.. then tingting came up and told us that her dad went for dental check to pull of his tooth.. when he return home, he still feels pain when he munched something.. and lastly he got to know that the dentist plucked the wrong tooth!! OMG.. now he lost both of his tooth.. LOL
2nd one.. dunno when there's this chicken pox thingy came out.. then xia told us that when her younger sister were having chicken pox, she played with her sister to cheer her up.. suddenly, her sis stopped her and have a look at her body.. she cried and said.. my chicken pox burst! LOL.. xia told us that her sister counts every chicken pox she has.. funny? seriously, i havent heard of anyone who will count the number of their chicken pox on their body lorr.. XD
LALALALALALA... christmas is coming so soon... 3 more days.. and i shall wait wait wait..
cant wait for "my santa" bring me for christmas dinner.. love christmas dinner..
and im exited bout it coz its my first anniversary with "my santa".. hehe
will post more bout the dinner and the food in next post... hehe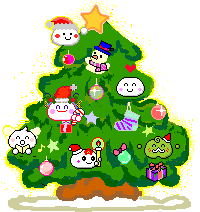 MERRY CHRISTMAS EVERYONE... =)